High performance materials are at the heart of the automotive industries historical transitions. We are known for our expertise in specialty materials and been witness and supported the many major evolutions in the transportation market. We are ready and able to provide high-performance solutions for next generation vehicles.
What we offer:
A combination of material expertise and problem solving skills for the most challenging automotive applications
Project assistance from our top level expert teams to our global network of technical centers
An industry leading portfolio of specialty solutions for highly demanding applications in the automotive industry.
Discover our automotive industry offer by expertise:
Aerospace and other modes of transportation
Aerospace
As a long-standing partner to the aerospace sector, Arkema develops high-performance products specifically designed for airplanes, helicopters and other forms of air transportation.
To meet the needs and standards of aircraft manufacturers to reduce fuel consumption and build sturdier, lighter, more comfortable and more secure aircraft, Arkema provides an extensive product portfolio of:
High performance polymers, including Kepstan® PEKK and Kynar® PVDF foam
Orgasol® polyamide powder additives
"Smart" high-tech adhesives and glues and thermoplastic resins from Bostik.
Focus on... innovative glues on board
A partner of the aerospace industry for over 60 years, Bostik develops a large number of high-tech bonding solutions specifically for aerospace applications, which are invisible to passengers but vital for their safety and comfort. They include, for example, the bonding of interior panels and laminates which help make trims and fittings lighter. As well as flame-retardant protective glues that slow the spread of flames in the event of a fire.
Other modes of transportation
Specialty polyamides: Rilsan® polyamides are used to manufacture technical parts for trucks, and offer a high level of thermal, mechanical and chemical resistance. They are used for transmissions, noise dampening, opening mechanisms, as well as fuel lines and fluid management (braking, clutch system, cooling).
Platamid® copolyamide hot-melt adhesives are used for durable adhesion of vehicle interior laminates and textiles.
Forane® refrigerants are used for the operation of vehicle air conditioning systems.
Luperox® organic peroxides are used for the production of raw materials found in parts such as hoses, belts, gaskets, o-rings and vehicle body panels.
MLPC International's vulcanizing agents, as powders (Ekaland® & Vultac®) or polymer-bound masterbatches (Mixland+®), are used for the largest parts in the rubber industry.

Extreme Pressure Sulfur additives TPS® commonly used in lubricant formulations dedicated to Gear boxes, Transmission and other automotive lubricants.
Webinars Library
Watch our webinars to learn more about our material solutions for the automotive and transportation industry.
Innovations that take you places!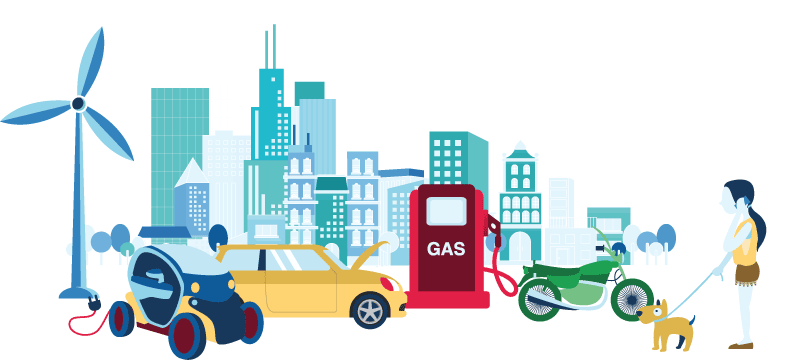 Going the distance
Electric and hybrid vehicles owe some of their autonomy to Kynar® polyvinylidene fluoride (PVDF). It is used in their batteries to bind the active particles to the electrodes that produce the current. This polymer improves the battery's performance and increases its service life.
Automotive air conditioning goes 4G
The air conditioning of the future is here now! Arkema has developed a process to produce a new, so-called fourth-generation, car air conditioning refrigerant fluid, 1234yf. Highly energy-efficient, it emits 10 times less greenhouse gas than the fluids found in today's vehicles.
Ousting steel
Rilsan® HT is a technical plastic that replaces metal and rubber in many automotive engine parts. Six times lighter than steel, it therefore helps boost fuel efficiency. This "green" plastic contains up to 70% renewably sourced carbon.
A purer fuel, service Included
Arkema also provides technical assistance. Our Carelflex® teams around the world help oil companies cut down the sulfur content in their fuels. Arkema's technicians step in directly in refineries to remove the sulfur from the fuels.
Windshields switch to "acrylic glass"
Altuglas® ShieldUp now enjoys a solid fan base among manufacturers of roofs and windshields for cars and motorcycles. Flawlessly transparent, superbly tough, half as heavy as glass, this material helps make vehicles lighter and therefore more fuel-efficient.
Our specific offering for other industries: