Arkema cultivates close relationships with its customers
Customers are central to Arkema's strategy and its innovation. We are committed to establishing a close relationship with our customers, in particular through a program of commercial excellence and strategic partnerships.
Our business excellence program to better serve our customers
Meeting customer expectations and promoting the Group's variety of solutions are the two main challenges of Arkema's commercial excellence program launched in 2018. This priority cross-functional initiative, supported by all our business units, aims to position Arkema among the best in the industry in this area. The program involves the company's business and sales community, made up of 1,200 men and women who are in direct contact with our customers every day,
With a view to better listening to the customer and better ability to manage the stages of progression of new business opportunities, this project has enabled the deployment of commercial processes and digital tools to facilitate collaboration between the Group's different activities. Arkema has also set up an inter-business unit key account management system and developed marketing content for its sales force, highlighting Arkema's entire product offering by market to help them respond to customers as effectively as possible.
The impact of this sales excellence initiative was assessed in 2022 through a customer satisfaction survey of all Arkema customers, which will be renewed over time.
Heeding our Customers' Voice

In 2022, for the third year in a row, Arkema conducted a survey designed to collect data on customer satisfaction and customer expectations from the Group.
As in previous years, this survey gives us invaluable indications to help us steer our customer relations and our ability to listen, and so achieve ever more productive commercial excellence.
Conducted in February 2022, the survey covered all our Business Units and spheres of activity. The number of respondents was up by 5%, with 3,215 responses, showing our customers' growing interest in sharing information. 1,800 customers voiced their opinions via specific targeted comments.
All these comments were carefully studied, and a personalized response was given.
An initial analysis shows very strong signs of recognition of the quality of our offer and products, our strategy and the professionalism of our teams, our expertise and values. This message remains consistent year after year.
We are seeing growing demand for bio-sourced materials, recyclability, and the circular economy.
Our customers recognize the quality of the relationships, contacts and responsiveness offered to them, while driving us towards excellence to further improve the transfer of operational information and documentation. It is precisely in this spirit that we have launched our customer portal project my.arkema.com.
Many of our customers are aware of the difficult situation of the global supply chain, price levels and material availability, recognizing for the most part the challenging environment facing industry as a whole.
With a satisfaction rate of 79% and an NPS of 24.7, we view these findings as a strong sign of overall customer satisfaction, and we are committed to doing all we can to maintain our close customer contact and responsiveness approach for the benefit of our mutual development.
To strengthen its customer relationships over the long term, Arkema forges strategic partnerships with key customers that are leaders in their markets or areas of expertise.
Some relate to industrial developments, such as the partnership with Daikin in refrigerants or with CJ CheilJedang and Novus in Thiochemicals. Others are innovationoriented, like the partnerships signed in 2018 and 2019 with Hexcel in thermoplastic composites and Carbon® in 3D printing.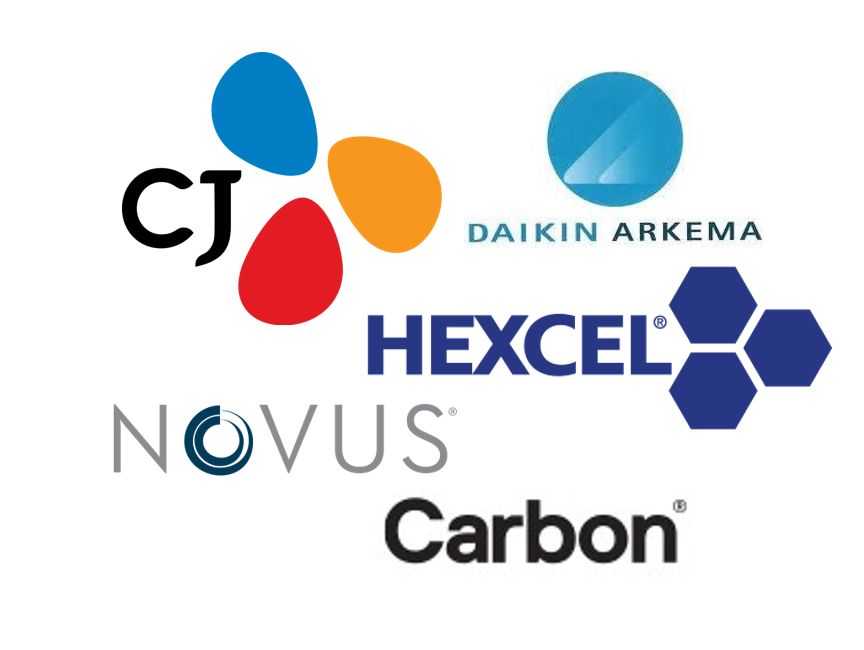 Two examples of close collaborations with clients in the composites sector
After forming a strategic alliance in 2018 to develop thermoplastic composite solutions for the aerospace industry, Arkema and Hexcel opened a joint research and development laboratory in 2019, combining the expertise of Hexcel in carbon fiber and that of Arkema in PEKK.
The companies' objective at this new lab is to develop carbon fi ber-reinforced thermoplastic pre-preg tapes to enable lightweight parts to be produced for future generations of aircraft. The goal is to offer cost-effective solutions to meet the need for lightweight parts and faster production speeds in the aerospace and defense sectors.
In 2020, Arkema was a co-founder of the ZEBRA (Zero wastE Blade ReseArch) project driven by the French Technological Research Institute -Jules Verne, which brings together leading players and technical centres around an ambitious project addressing the design and production of the first 100% recyclable wind turbine blade.
Arkema is actively taking part in this project with its liquide thermoplastic Elium® resin, and strenghtening its position as a key player in thermoplastic composite market. This resin is perfectly in line with the circular economy approach that the Group has initiated for both its operations and its products.
Arkema is at the heart of this consortium alongside Canoe, Engie, LM Wind Power, Owens Corning and Suez, and contribute to the development of environmentally friendly and sustainable solutions for wind power with its expertise in high performance materials.
The relations with stakeholders