Composites and advanced materials
Our materials for outstanding composite matrices
Elium®
The termoplastic resin Elium®, liquid at ambient temperature, is unique on the market and is used to manufacture thermoformable and recyclable thermoplastic composite parts.
They are suitable for traditional processing technologies such as RTM, infusion and FlexMolding™, and therefore allow the production of thermoplastic composites with same equipments than for thermosets.
Kepstan®
Kepstan® PEKK often used to replace metal in extreme conditions (offshore, aviation). Thanks to this high performance polyether ketone ketone, the final composite is endowed with superior resistance to violent impact, high temperatures, and highly aggressive chemical agents. Kepstan® now exists in the form of carbon fiber-reinforced thermoplastic tapes.
Kynar® UHM™ PVDF
The Kynar® UHM™ PVDF thermoplastic resin is used for overmolding or bonding to composite parts. It offers superior mechanical properties, including greater rigidity as well as excellent high temperature and fire resistance. Easy to process, Kynar® PVDF resins feature outstanding UV and chemical resistance.
Rilsan® PA11
100% biosourced, this high performance polyamide resin, in the form of fine powder or granules, imparts chemical stability, abrasion resistance and impact resistance to composites even at very low temperatures. Rilsan® Matrix grades are used to produce thermoformable and recyclable thermoplastic composites.
Additives for tougher composites
Our innovative additives significantly improve the inherent properties of composite materials.
Focus on...The Mini 6.50 Arkema 3 prototype, an expression of innovation
With its Mini 6.50 monohull, Arkema is forging ahead into sailing with renewed energy. This prototype with an innovative design takes up a major challenge: the construction of a boat that is recyclable thanks to Arkema's latest generation materials.
A floating laboratory teeming with innovations
Building on their experience with the Multi50 trimaran, Arkema and Team Lalou Multi have designed a resolutely high-tech Mini 6.50 class prototype. Those products with a proven track record on the trimaran have been retained, in particular the Bostik methacrylate structural adhesives.
A new product has also stepped on board, the Elium® recyclable resin. Fresh out of Arkema's laboratories, it had never been used in this type of manufacture. This full-scale test has enabled the Group to save months of development.
The building of this boat was planned from the outset as a genuine research project.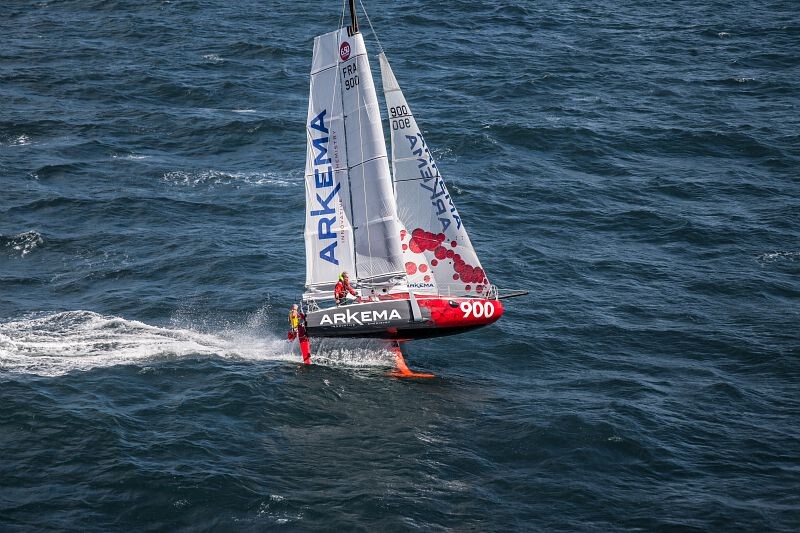 Structural adhesives for easy-to-process high-performance assemblies
Structural adhesives play a major role in the assembly of composite parts, either between the parts themselves or with other materials (metal, plastics, aluminum, glass, etc.).
Bostik specific adhesives
Adhesive sealants: their permanent elasticity allows complex assemblies with no loss of mechanical strength. They can withstand UVs and moisture within a wide temperature range.
SAF® two-component structural adhesives: these methacrylate adhesives combine strong adhesion without the need for a primer on many substrates, very good flexibility thanks to the Nanostrength® block copolymer technology, and adjustable curing times (5 minutes to 2 hours).
Platamid® hotmelt adhesives are plasticizer-free and solvent-free. These thermoplastic copolyamides ensure excellent adhesion, with little product required, on a wide range of substrates: composite materials, textile, metal, leather, plastics. Arkema offers an extensive range of Platamid® adhesives, some of which are biosourced grades, available in the form of powders or granules (for processing into films, webs or filaments). Additionally, they help improve productivity through shorter cycle times and can be reused and recycled.
Our specific offering for other industries: