Homecare and I&I cleaning solutions
At Arkema, we design specialty solutions in line with the most strict requirements and market trends in detergents and cleaning solutions. Our global network of experts help to develop a tailor-made solution for different applications matching various material property requirements for household, industrial and institutional hygiene. We drive the innovation through co-development with our customers to respond better to changing consumers' demands for more eco-friendly products.
Our market-leading portfolio of ingredients carry out different functionalities for efficient detergents for fabric, dish & surface care, food service and industrial sites:
Stain or soil removers
Sensio® - nonionic bio-based surfactant delivers an outstanding performance in terms of degreasing, soil removal booster and foam. Sensio® is palm oil-free and sustainably sourced without entering direct competition with food chain.
Peroxal® - specialty hydrogen peroxide for bleaching, efficient solutions to break down chromophores into less colored structures. The solutions is a key ingredient for peracetic acid and it is a more sustainable alternative to chlorine-based solutions for soil removal applications.
Ensoline® - co-surfactant, solvents and coupling agent that boost the degreasing power of the detergent. The solutions is highly efficient as solubilizer and stability booster for stain removal and compatible with ecolabel.
Thickeners
RheosolveTM T - acrylic and polyurethane thickeners that address all challenges in detergent formulation. The line consists of sprayable and easy-to-use liquid polymers adapted for cold and fast formulation process.
Cecajel® - a complete range of acid and H2O2 thickeners adapted for ease of use thanks to its 100% active liquid state. The solutions demonstrates exceptional performance in terms of wetting properties, cleaning and solubilizing power.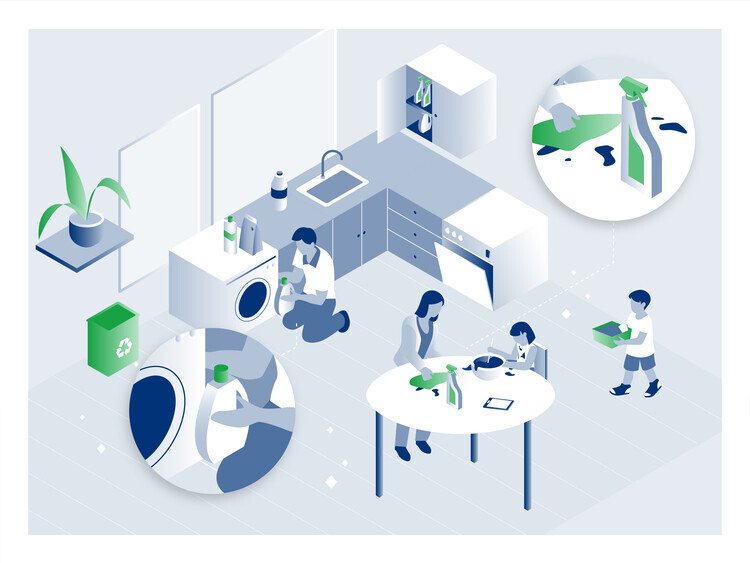 Dispersing agents
RheosolveTM D - efficient solutions for anti-scaling and prevention of soil deposition of acrylic homopolymers and sulfonated copolymers. We provide innovative grades with improved spotting and filming, while reducing polymer content.
Descaling
Scaleva® – new generation of eco-friendly acid cleaner. A biodegradable powerful acid is designed for efficient derusting and descaling applications to reduce the number of cleaning steps and amount of water used.
Disinfection
Peroxal® - a ready-to-use biocidal product with tailor-made stabilization. Peroxal has an excellent certification profile with raw materials approved by Ecocert Greenlife and conforms to purity level specificed by Food Chemicals Codex.
Pharmaceutical sector, medical and respiratory devices
Solutions for pharmaceutical industry
From vitamin C to the most sophisticated anti-inflammatory, antibiotic or cardio-vascular drugs, the molecules and products developed by Arkema are used in the synthesis of a vast number of medicines.
The pharmaceutical industry calls upon Arkema for three major types of products.
Medical and paramedical equipment, devices and accessories
These high performance materials replace traditional materials such as glass or metal, while meeting requirements of sturdiness, safety and harmlessness (bio-inertia), resistance to sterilization and microbial attack, and good light transmission. These materials include mainly:
Pebax® MED copolymers, used to manufacture catheters,
Rilsan® Clear MED biosourced polyamides, for breathing masks, Rilsamid® MED and Rilsan® MED product families for bags.
Bio-inert, sterilizable and very chemically resistant, Kynar® PVDF is used to manufacture disposable equipment, autoclaves, membranes, etc.
These various products all fulfill the stability, purity and safety constraints of the pharmaceutical industry.
Molecular sieve for respiratory devices
With the effects of smoking and pollution, the number of people suffering from respiratory failure is on the increasing. They are required to carry a source of oxygen-enriched air at all time. More compact, either fixed or portable, oxygen concentrator respiratory devices use Nitroxy® molecular sieves.
Thanks to their unique properties, molecular sieves adsorb the nitrogen while letting the oxygen through in the ambient air. Hence the patient is able to breathe in high purity (over 90%) oxygen-enriched air.
Additives & ingredients for personal care products
Soft to the skin and scented, shampoos, detergents and soaps do more than just clean. They are also pleasant to use. Their secret: active ingredients and sophisticated formulations, the result of Arkema's research and development work.
Safe and efficient protection
In an era of disposable items, baby diapers, feminine hygiene and adult protection articles have to be increasingly discreet, soft and thin, but also more absorbent and reliable. A range of Arkema specialty products fulfill these expectations.
Two to three grams of adhesive made by Bostik (an Arkema subsidiary) are enough to assemble the twenty or so components making up a disposable baby diaper.
Under ten grams of absorbent or superabsorbent gel, which is part of Arkema's acrylics range, are enough to effectively absorb as much as 100 times their volume, at least.
LEARN MORE ABOUT BOSTIK DISPOSABLE HYGIENE SOLUTIONS
Solutions for cosmetology
The texture of beauty products is a major criterion in consumer choice and a vital key to the progress of cosmetology.
Ultrafine and ultrasoft, Orgasol® fine powders for cosmetics are used for their unrivalled mattifying, sebum absorption, covering, soft focus and after feel properties. Leading cosmetics brands use them extensively in their make-up ranges (skin care, color cosmetics and sun care products).
Arkema's expertise also extends to natural aromas and fragrances for cosmetics with its 100% plant-based Oleris® range, and to extraction solvents from its thiochemicals business.
For over 30 years, hair-removal creams and perm lotions have been formulated with thioglycolic acid.
Our specific offering for other industries: